How you can learn spanish in Costa Rica?
Brunxu Apartments a convenient local host for students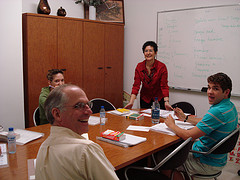 You can learn Spanish in Manuel Antonio, which lies along the Quepos, on the southern coast of Costa Rica. Quepos is a cosmopolitan city and the locals are known for their warmth and courtesy. The spectacular beaches and sunshine of this space attract large numbers of tourists. You can look forward to surfing, canopy, horseback riding, sailing and sport fishing. Quepos and Manuel Antonio in addition offers you an stimulating nightlife.

The advantages of learning Spanish in Costa Rica
You can gain knowledge of Spanish quickly if you join a Spanish language immersion program, in Costa Rica. Language immersion courses are considered to be the ideal way of learning a second language. This effective method involves learning the second language by using it to communicate, rather than by studying the language itself.
If you learn Spanish in Costa Rica, you can put into practice what you studied in real life situations. You can master by listening to local speakers. You can use your new Spanish skills on the street for greeting people, thanking them, asking for instructions, shopping or for making conversation.

Choosing a Spanish language schools in Manuel Antonio
If you want to master Spanish in Manuel Antonio, you can consider some of the Spanish language immersion schools mentioned here. You can also enjoy the many tourist attractions, which Manuel Antonio has to offer.
Paraiso Spanish Language School offers Spanish immersion programs in Manuel Antonio, for young students and adults. There are courses in Spanish language, history and culture. Specialized courses are again offered for instructors, business people, tourism professionals, exam preparation, etc.
Escuela d'Amore a Manuel Antonio School offers a wide range of Spanish courses, for learners of different levels. The school uses a combination of classroom studies and social interaction, to help you to learn Spanish quickly. d'Amore similarly provides specialized courses for executives, tourism professionals and those who are preparing for some Spanish examination.
COSI Center Institute offers Spanish language courses and training for instructors in Manuel Antonio, for learners of all levels. Extra-curricular activities and excursions are provided to help the learners to rest and unwind. Competitive prices are offered and there are courses for people with different stipulations. You can enjoy a vacation on Costa Rica's bright Pacific shore, while you learn Spanish in Manuel Antonio.
If you wish to receive more information about Spanish Language Teaching Centres or reserve a Spanish immersion courses in Manuel Antonio Beach, please contact us by email today!