Manuel Antonio National Park

Manuel Antonio National Park, was established by Act No. 5100 November 15, 1972 and Executive Order No. 7901-A on 16 January 1978. This park is located on the Pacific coast of Costa Rica, has a richness and diversity of flora and fauna rarely surpassed in this nation state and throughout Central America, with many endemic, rare or even new to science. It is also known for its attractive beaches surrounded by vegetation and majestic landscapes.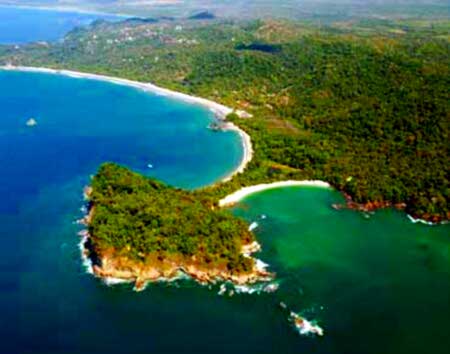 This park is small and is surrounded by farmland, ranching and large construction of hotels, restaurants and homes, for this reason constitute an ecological island. These factors combined with growing pressure from tourism are the major threats facing the park. But even with these problems, this park is of great value to the conservation of biodiversity, ecological processes and as an relevant recreational region for domestic and foreign tourism.
Among the most relevant species that are present in this national park are sea turtles (Lepydochelis olivacea), the which is in danger of extinction, so their survival depends on habitat protection.
The situation with middle-mammalian species such as white-faced monkeys, the marmoset, raccoons, ocelots and coatis, among others, reflected in the need of these species to thrive in a habitat radius than they had in the forest patch area initially declared as a park (683 ha).
In particular way we must stress the reality of the marmoset monkey, as besides in danger of extinction, and current studies indicate that the species is in the process of degradation which requires urgent to find natural mechanisms of contact with other populations of the species to strengthen the genetic contact. Additionally, recent studies of El Rey and the surrounding wetland and mangrove ecosystems of great importance shelter for the protection of seabird species both migratory and resident.
This Park is of great value to the conservation of biodiversity, ecological processes and as an relevant recreational area, as tourism is the engine of national and foreigner visiting the area.
Manuel Antonio National Park open from Tuesday through Sunday, the entry ticket will cost $10 which will serve to park maintenance and purchase of new lands. The opening hours are 7 am. until 4 pm. Do not forget that new regulations SINAC are allowing only 800 tourists come to the park on holidays and other days only 600.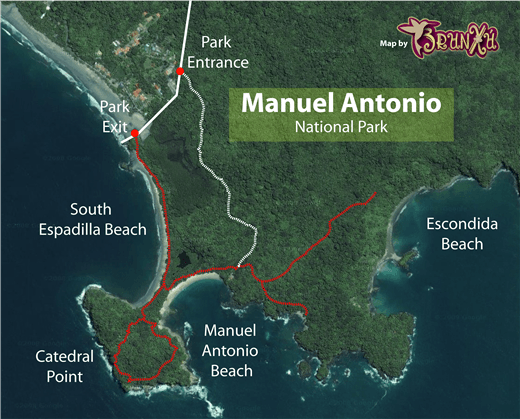 Size: 683ha (1685 acres) land and 55000ha marine.
Altitude: sea level to 50m (160ft)
Hours: from 7:00 a.m. to 4 p.m. Closed on Monday.
Location: Pacific Coast, 4 miles (7km) south of Quepos in Puntarenas province.
GPS Coordinates: +9° 23′ 22.68″, -84° 8′ 50.74″